In May 2013, I travelled to Slovenia to find out why cycling in this country is so enjoyable.
The 'Best of Slovenia' is the perfect name for the tour I took part in. This small country, the size of Wales, with only just over two million people has everything; high mountains and limestone hills, impressive castles and deep caves, medieval towns and Renaissance and Baroque cities, magical lakes and Venetian harbours. Cycling through this pretty country was the perfect way to see and enjoy it all, especially as the Slovenes are possibly the most courteous and considerate drivers in Europe. Here is a little description of what we came across along the way...
Day 1
Ljubljana to Bled
Jana, our local agent, met us at our hotel in Bled and enthusiastically talked us through our route notes and gave us top tips we would appreciate later. She introduced us to our two sturdy, orange city bikes which would be our means of transport through this very small and very green country. Standing on the balcony of our boutique hotel in the late evening sun overlooking Lake Bled with its picture-postcard, ancient church on its tiny islet and the Julian Alps rolling, forested hills as a backdrop meant the real world suddenly felt a million miles away.
We strolled along the lake listening to the happy cicadas and enjoying the warm breeze before taking a table at a restaurant on the lakeshore. The candlelit table, the wonderful local wine, the delicious dishes including the famous Bled cake, the gentle lapping of the lake on the shore, the 11th century castle lit up atop a steep cliff above us and the extra bonus of a super moon all added to the romance of the evening.
Day 2
Bled to Ribcev Laz, Lake Bohinj and the Savica Waterfall
Slightly reluctantly ourselves and our bikes took the 9am arranged transfer from Bled to the Pokljuka Plateau, both feeling like we were cheating before we had even started and convinced we didn't require such assistance. As the van turned corner after corner after corner continuously climbing higher and higher, we looked at each other and smiled, both relieved we didn't have to break out a sweat. Ominous clouds didn't dampen our mood as we took the narrow asphalt road through the pine forest and began gently swooping down through Alpine meadows and pastures, passing pretty wooden huts, unique hay racks and soon to be ripe orchards. Birds chatted, butterflies fluttered by and cows swung their bells whilst they munched the long grass and swallows darted to and fro.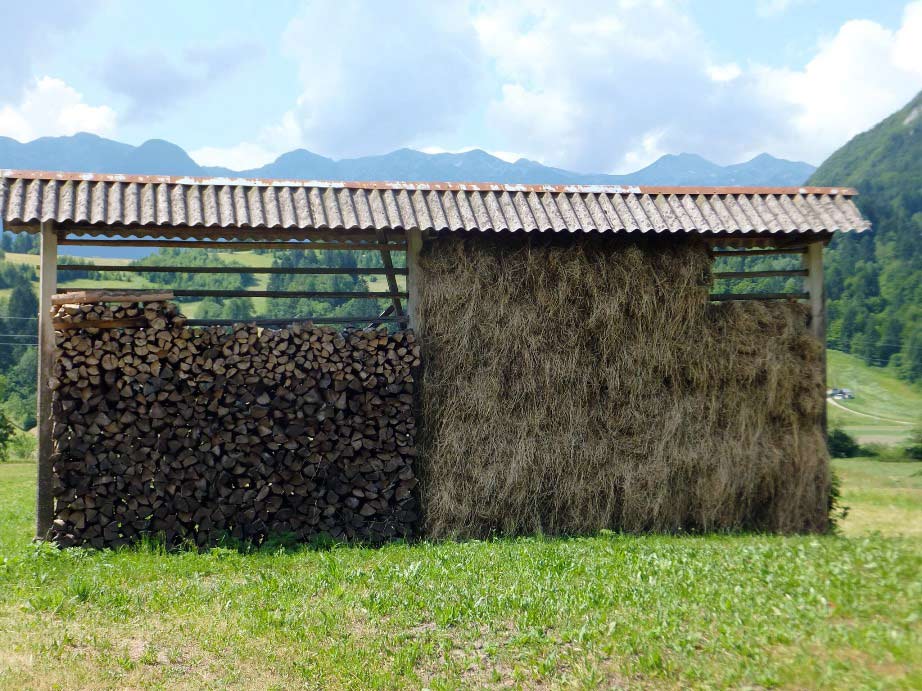 We slowed down to allow a friendly herd of goats to cross and to go through small, pretty villages with their chalet style houses and bright red geraniums bursting from every balcony. Before we knew it we were on the east side of Lake Bohinj with its beautiful clear waters, watching the fish dart around and the kayakers paddle silently across. Just before the stone bridge we visited the small, medieval John the Baptist church with its ancient and beautiful frescos dating back to the 14th century.
Keen to explore, we cycled along by the lake and up and up a winding road to then climb a further 350 steps to see the Savica Waterfall which at 38m long and with a 45 degree gradient and another almost vertical drop of 51m is one of the most impressive waterfalls in the region. A late night, fresh air, cycling and walking plus a beer on our balcony had me asleep by 4.30pm!
Day 3
Ribcev Laz, Bohinj to Skofja Loka
Although we were sad to leave Lake Bohinj, the stone bridge and the pretty church, we knew we would be back again one day to explore this beautiful area. The narrow asphalt cycle track took us along a green, flat valley floor beside a fast flowing river. This place felt special; so quiet, so pretty and only us about to enjoy it. Having declined the offer of an "up lift" at €15 we climbed up 750m (2,400ft), very slowly, winding through the forest to the Jelovica high plateau.
The ride down certainly made the effort required reaching the top worthwhile. We swooped down the winding path through a deep forested valley with pretty hamlets and small churches, not seeing a soul. In the next town, we stopped for possibly the best hot chocolate we have ever had and soon we reached Skofja Loka, Slovenia's best preserved medieval town.
After checking in at our friendly hotel, we spent the late afternoon walking along the river and wandering through the cobbled streets of its Old Town stopping to taste the local Lasko beer in a bar overlooking the river - all part of the cultural experience you understand! We finished with dinner in an old rustic tavern where we entrusted the waiter to pick our wine to go with our melt in your mouth lamb dish. Beautiful.
Day 4
Skofja Loka to Ljubljana
After leaving Skofja Loka, we cycled through small forests with sunlight flooding through the trees, along gravel tracks across farmland where stout ladies with head scarves worked hard on the land and on narrow asphalt paths through small villages until we reached Ljubljana. This may be Europe's smallest capital city but it is all the more beautiful for it. After checking into our city hotel, we walked through the beautiful Tivoli Park before reaching the Old Town with its mix of medieval buildings and Baroque facades, admiring its numerous squares with colourful markets and pavement cafes.
Most of the city is car free and pedestrians and cyclists happily mix without any complications. We walked along the tree lined river passing its numerous bridges; the Triple Bridge, the Dragon Bridge with its impressive statues and the Cobblers Bridge where shoemakers avoided the cities taxes in the Middle Ages. The small funicular took us up to its hilltop medieval castle where we enjoyed the views over the red-roofed buildings and surrounding hills. Sitting outside enjoying a late dinner with local wine by the river was the perfect end to a perfect day.
Day 5
Ljubljana to Vrhnika
We cycled along Ljubljana's cycle paths, through the city and out into the surrounding marshy plains where there was once a great lake until it dried up 6,000 years ago. Left behind is an incredibly diverse landscape which is now home to some of Europe's rarest forms of bird, plant and insect life. We cycled past fields of crops and bales of hay and took the suggested detour on a quiet, gently climbing road towards a gorge where we enjoyed a lovely walk with no one else in sight.
Onwards along quiet country roads we passed the remnants of the world's highest railway viaduct in Borovnica and stopped at the Technical Museum of the Republic of Slovenia where there was a mishmash of objects on display in a maze of rooms throughout the Bistra Castle and included an exhibition of Tito's expensive armoured cars. Quirky yet fascinating.
Day 6
Vrhnika to Postojna
Today's' highlight was a visit to one of the world's largest karst caves in Postojna. Waiting in a  line of people to enter the caves felt so strange after avoiding any crowds or tourists so far along our route but viewing the series of caverns with their impressive stalactites and stalagmites from the little train was well worth it. This underground world was carved by the Pivka River over a course of two million years and parts of it are large enough to hold 10,000 people. Equally amazing are the Proteus anguinus, blind little creatures with human like pigmentation who survive in this underworld using bright red gills and fins when in the water and four legs and lungs when out.
Day 7
Postojna to Hrusevica
(Please note: This part of the tour has now changed so you ride Postojna - Štanjel on this day)
We expected the road to climb and climb to the Predjama castle but we found ourselves cycling down and down to find the castle with its green and white shutters impressively built half way up and into a 123m sheer cliff. Of course cycling down means cycling back up, but the roads were quiet and we were soon back onto tiny country roads through the very green countryside heading towards Slovenia's wine region. The roads gently climbed and dropped as we passed through endless vineyards with deep red, fertile soil before we came to a tiny village with our guesthouse which was right next to a small church with three bells on its small tower.
We were greeted warmly by the elderly owners and enjoyed a refreshing beer in their courtyard filled with pots of blooming flowers. Our balcony overlooked the owner's vines with the forested hills and karst mountains making a beautiful backdrop. After our delicious home-cooked dinner ourselves and two Australian couples were invited to the owner's wine cellar to taste their white and red wine along with their port made from the vines growing outside our bedroom window. No hard sell at all but it was impossible not to leave without a bottle of their port - once again I was so grateful for the luggage transfer! We took an evening stroll past orchards with ladders expectantly leaning against the trees and proud folk watering their beautifully manicured vegetable patches taking in the quietness and the setting sun.
Day 8
Hrusevica
(Please note: This part of the tour has now changed so you ride Štanjel - Lipica - Divaca on this day)
We chose not to take the suggested cycle loop on our rest day and I hate to admit it but it was the most perfect day; ten hours of shutter enhanced sleep, a lazy breakfast of home-cured prosciutto, a picnic lunch amongst the vines and a visit by foot to Stanjel, a beautiful, red roofed village sitting atop a vine covered hill.
Walking through its narrow streets between small stone buildings, some draped with foliage growing amongst the once lived in rooms and some with ancient wooden doors decorated with wreaths made of yellow and purple dried flowers, it was hard to believe that this tiny village was once an important trade town.
Over the centuries, it has changed hands from the Romans to the Habsburgs and to the Venetians. The lemon-like spire of the 15th century clock tower chimed whilst we sat in a beautiful square sipping a glass of local white wine whilst leisurely reading our books in the shade - sheer bliss.
Day 9
Hrusevica to Lipica to Divaca
(Please note: This part of the tour has now changed so you ride Divaca - Ankaran on this day)
Back on our orange bikes we cycled through beautiful countryside and more vineyards before reaching a wide avenue with a white picket fence and linden trees leading us to the entrance of the Lipica Stud Farm where we were greeted by a herd of white, Lippenzanner horses galloping towards us. Lippenzanner horses originate from here (and not Austria as I thought!) and have been bred here for over 400 years. Any horse lover should take a tour of the beautiful grounds and see the elegant horses in action. I definitely recommend calling ahead or checking online to see the times of the guided tours.
Day 10
Divaca to Italy to Koper
(Please note: This part of the tour has now changed so you ride Ankaran - Piran on this day)
Today we decided to freestyle and leave the safety net of the route notes by missing out Trieste as we would visit on our last day before flying home. The few kilometres to Italy's border passed quickly as we flew past the pretty countryside full of vineyards. Just before the border we saw numerous Italian cars queuing to fill up with cheap petrol. The difference across the border was immediate; the quality of the road worsened, the number of cars significantly jumped up and it was certainly noisier but thankfully, and maybe surprisingly, the drivers were still considerate to us cyclists.
After some busy roads, we took a short cut down to the sea on a narrow winding and cobbled road which certainly made use of my brake pads. Hugging the coast we cycled past and through small harbours with tiny towns complete with obligatory piazzas. The sea was clear and sparkling but rather than choosing to swim we continued on, not quite so enamoured with the view of Trieste's port. Plus we had also been enticed by the promise of a kilometre long beach in Ankoran.
Before we knew it we were back in Slovenia and suddenly the birds started to chirp again and the sides of the roads were covered again with vineyards with large bunches of grapes and olive trees rather than ugly buildings. The difference was amazing. We continued on to Koper, our destination and final night, where we enjoyed the mix of Gothic, Renaissance and Baroque architecture, the pretty squares and the old and new harbour. We sat outside drinking local wine enjoying the Mediterranean atmosphere and watching the sun set over the Adriatic and the harbour.
As noted, the itineary for the current Best of Slovenia tour is now different and finishes in the Venetian habour of Piran.
Day 11
Koper to Trieste by bus
(Please note: This part of the tour has now changed so you now depart from Piran on this day)
No 9am deadline for the luggage transfer meant a lie in and an extra leisurely breakfast in the beautiful breakfast room in Hotel Koper complete with grand chandeliers. I felt guilty that we were leaving Slovenia to fly back from Trieste in Italy rather than Ljubljana, as though, when I booked it, I had thought Slovenia wouldn't have been enough. It was and so much more and we will certainly be back.
Trieste, however, was still the perfect place to while away our last day. After a ten minute walk from the bus station, we came across the Piazza dell'Unità d'Italia, one of Europe's largest squares. Lined on three sides with palatial, ornate buildings and with the fourth side looking out onto the sparkling Adriatic, it was very impressive. A table in the shade in a nearby and less expensive piazza was the perfect spot to enjoy a penne and pizza along with a carafe of wine. Meandering through the pedestrianised streets with no map, just choosing one way or the other, peering into cool churches or cooling hot feet in fountains was very relaxing.
So, should you go for a Cycling holiday in Slovenia?
Definitely! The scenery was beautiful and it was wonderful to see the landscape change as we cycled the 400km from the mountains to the Adriatic. The route notes and maps were very easy to follow and the routes were very well chosen as we were often away from traffic on small, well maintained asphalt paths and when not, the roads were never too busy and all drivers were incredibly considerate.
The bikes were comfy with excellent tyres which thankfully meant no need for the repair kit. The distances allowed us plenty of time to also explore our destinations on foot and relax in the afternoons. The luggage transfer always worked perfectly, although I will pack fewer clothes next time to make it easier to pack each morning! The hotels were spotlessly clean, the staff always friendly and the continental breakfasts, which also always included eggs and bacon, set us up well for the day's cycling ahead.
Menus in restaurants were in English and most food was very well priced. Coffee stops, very important in my book, provided excellent coffee and, at only a euro a time, were very affordable. We would also happily recommend the local wine and beer too! Slovenia is a beautiful country and this tour was the perfect introduction – there is no doubt that we will be back very, very soon.
Find out more about this tour
Visit Best of Slovenia to learn more about this tour.
Alternatively, make an enquiry online or speak to one of our team by telephone: +44 (0)1273 224066 (Office Hours (UK time): Monday to Friday: 9am - 5.30pm)
Tours featured in this post