Ten Reasons To Love Cycling In Italy

A jewel of the Mediterranean, Italy is home to some of the world's best food, art and architecture. We have more than 40 tours that cover many regions of Italy, from trips that explore Sicily in the very south of the country, to tours that depart from Bolzano, very close to the Austrian border in the north.
We have so many tours that run in Italy because, in our opinion, it ticks almost every box as a fantastic destination for a cycling trip! To explain why, here are the ten top reasons why we love to cycle in Italy.
1. The Cycling
It might be a sweeping generalisation, but Italians love cycling. From a light cycle to the local shops or pounding the route of the Giro d'Italia and everything in between, there's a wide range of cyclists in Italy and their passion for all things bike-related is something that we share. The cycling infrastructure in Italy is generally better than in the UK too, with cycleways through towns & cities and dedicated cycle paths that run through parts of the country.
2. The Variety of Routes
Whether you're looking for green hills, coastal paths, lakeside retreats or tours between historic towns and cities, we think that Italy is a cycling haven because of the variety of routes available. Whether it's the sun-licked Puglian coastline, the rolling valleys of Umbria or the Adige Cycle Path which cruises down from the mountains of Northern Italy, through Verona and on to Venice, Italy's cycle routes take some beating!
3. Unbelievable Scenery
Few places in the world boast scenery as impressive as Italy's. From the verdant hills of Tuscany to the bright cliffs of the Amalfi Coast, Florence's dramatic skyline to the pretty mountain landscapes of the Dolomites, Italy is an unending canvas of landscapes that never fail to take your breath away.
4. The Delicious Food
It wouldn't be an exaggeration to say that Italy is the centre of Europe when it comes to food. Famed around the world for its cuisine, each region has its own distinct specialities; Parma ham and parmesan cheese in Emilia-Romagna, white truffle in Piedmont, tortelli stuffed pasta in Tuscany, 'risi e bisi' risotto in Veneto and of course Neapolitan pizza! It's difficult to leave Italy without having a new appreciation for food and wine.
One of our favourite parts of a cycling tour in Italy is stopping for a silky cappuccino in the morning and creamy gelato in the afternoon, riding at a leisurely pace always has its benefits!
5. The Famous Cities…
Italy certainly isn't short of remarkable cities filled with timeless treasures, world-renowned sights and some of the best shopping in Europe. In the north of the country, Venice's historic canals have dazzled people for generations, Verona's pretty streets have inspired romance in many (including Shakespeare), while the Renaissance magic, galleries and museums of Florence make it a must-visit.
Whilst in the south, Naples' historic centre is a UNESCO World Heritage site filled with striking and historic churches and cathedrals, Palermo is Sicily's colourful gem, with gothic palaces and lively markets, whilst there is an eternal lure to Rome's Colosseum, the Trevi fountain and the Sistine Chapel, amongst other wonderful sights.
6 …and Less Visited, but Equally Magnificent Towns
The beauty of Italy is that it's possible to experience authentic places, rich in culture and history without a frenzy of tourists. We feel that is the beauty of cycle touring, stopping to visit these superb towns as you ride. A few of our favourites include the alpine city of Bolzano whose beautiful architecture seems more Austrian than Italian, the medieval hill town of Spello in Umbria has vibrant streets and a stunning Basilica, whilst Sicily's rustic towns, dramatic gorges and rock caves provide a very different side to Italy.
7. A Rich and Varied Culture
Italy is an assortment of cultures that make this one of the most fascinating countries in Europe. Family, food, sport, religion and art are all big influences on Italian culture and it's difficult to spend a week or two in Italy without seeing a celebratory festival, carnival or opera performance!
Italy as we know it only came to be in the middle of the nineteenth century, before this it was a collection of states that operated separately from each other. Because of this, local variations in language and tradition still exist, but this means that on a longer cycling tour you can experience an assortment of cultures as you pass between regions.
8. Unrivalled Architecture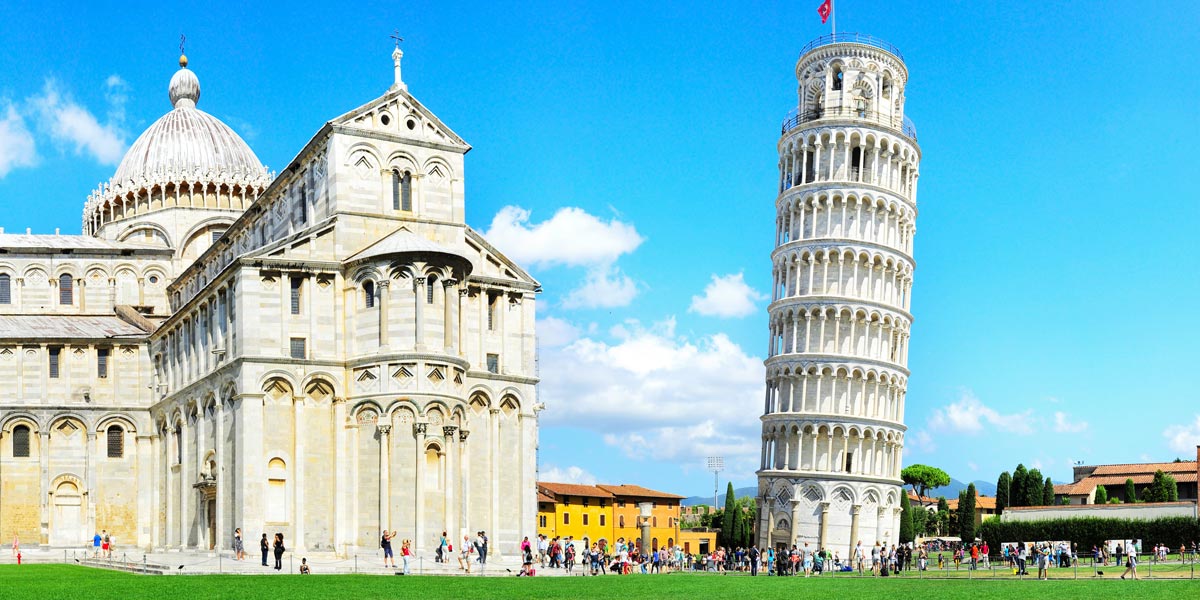 Ponte Vecchio, St. Peter's Basilica, The Leaning Tower of Pisa, countless grand churches and thousands more delightful buildings make Italy one of the world's superpowers when it comes to wonderful architecture. Wherever you pedal, you're likely to come across a piazza with at least one historic building which will steal you away from your ride.
9. The Climate
The climate in Italy can depend on what part of the country you are in, but during summer the weather is generally very good with lots of sunshine
For sun-worshippers Sardinia, Sicily, and tours in the south of Italy will provide joyously bright rides. Tours in the north provide rides in more comfortable temperatures, with tours that start in Bolzano or around Lake Garda being best suited to anyone wanting to cycle in a gentle climate.
10. Italy is a Gateway To Other Countries
The final reason that we love cycling in Italy is that it provides a fantastic start/end point for tours that venture into other countries. One of our most popular tours starts in Venice, cycling along the northern coast of Italy before crossing into Slovenia with its golden beaches and then into Croatia, ending in the lively town of Poreč. As an alternative, cycle from Lake Bled in Slovenia, taking in the impressive natural beauty of this small country, before reaching Italy's beaches and lagoons where this tour ends on the sandy shores at Lido di Jesolo near Venice.
Tours featured in this post