Having enjoyed five family cycle tours with my now three-year-old, I can honestly say they are my favourite type of holiday. That's us pictured above, on our tour of Mallorca in May 2019. We love being outdoors and active in the fresh air, along with the good nights' sleep and the sense of adventure these tours bring. We don't have to think of what to do each day, we simply follow the excellent route notes and maps, stopping when we want to explore. The fine mix of coffee and playground stops keeps everyone happy! There is so much to see from the saddle to keep us all entertained; we've had a host of butterflies come for a ride with us and even cycled past camels!
Our wide selection of family-friendly cycling trips visit a range of exciting destinations. The routes follow dedicated cycle paths or very quiet roads, the daily distances are shorter and manageable for the smallest of legs and the accommodation comprises a selection of hotels, all ideal for parents, children and grandparents. Read on below to see my recommendations for the best cycling tours for families.
Bolzano to Lake Garda – Leisurely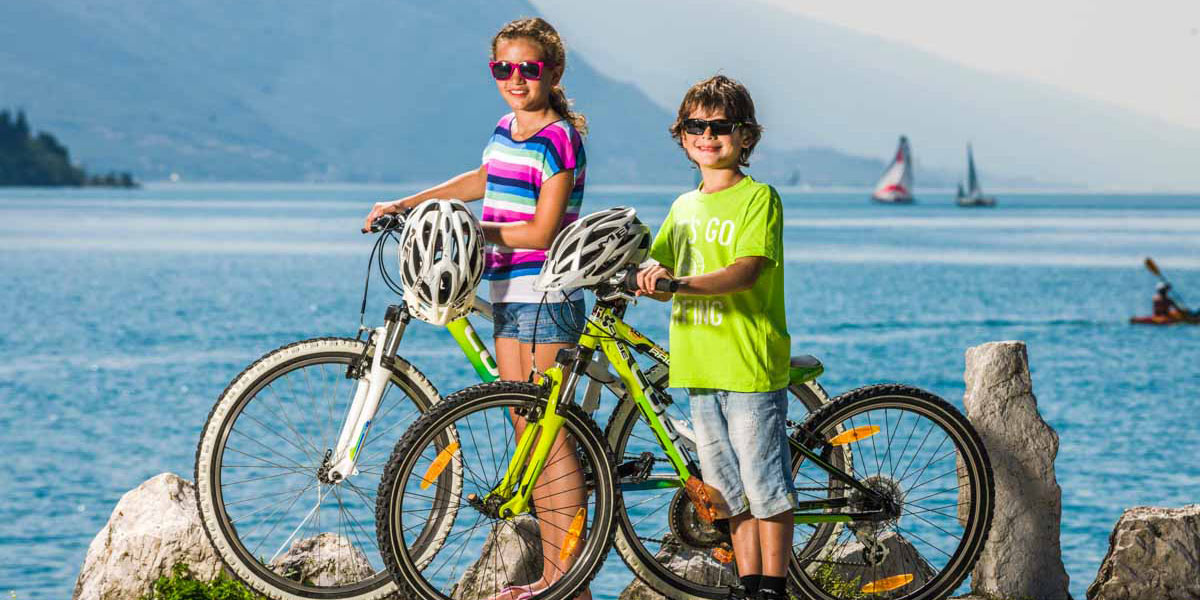 Families can make the most of the great outdoors during summer and explore Italy's South Tyrol and Veneto on a self-guided bike tour. Along the way, kids and grownups can stop off at a rock climbing area in Auer, visit a dinosaur trail in Val d'Ultimo, marvel at the magnificent Beseno Castle near Trento and tuck into a pistachio ice cream in the town of Mori. As a self-guided trip, families can take each day at their own pace and indulge in as many breaks as they like. Lake Garda offers a wide range of activities for families, including swimming, boat rides and the castle at nearby Malcésine. Plus, there are plenty of places to try traditional Italian food, including delicious pasta and pizza. The longest cycle ride is 28 miles and with e-bikes for adults and various options available for children; all abilities and fitness levels are catered for. Each evening, stay at three or four star authentic hotels, all of which are family-friendly and a great way to experience life with the locals.
View tour: Bolzano to Lake Garda – Leisurely
Danube – Leisurely Linz to Vienna
Pedal from the UNESCO World Heritage Site of Linz to the artistic Austrian capital Vienna on this seven-night tour. Ride through the Austrian Danube valley on flat, paved cycle paths that are ideal for children and those new to cycling tours. Families can try the many extra activities en route, from the Dragon Train in Linz and the water park in Ardagger, to the museum of ship building in Spitz and paddling on the famous Danube. Other cultural highlights include cycling to the Celtic open-air museum near Mitterkirchen, pausing at the Maritime Museum in Grein and riding Vienna's Giant Ferris Wheel. Throughout the journey, tuck into regional specialities such as Linzer torte, Weiner schnitzel and many traditional sweets. The trip departs on any day between April to October, meaning parents are not constrained to certain dates or departure days and therefore can find great value flight prices. Plus, as this is a self-guided holiday, kids can stop and have a snack or a picnic whenever needed. Although the longest cycle ride is 30 miles, the routes are mostly flat and e-bikes (for adults) can be hired for that extra push. Children aged 0-8 go for free when sharing with two adults.
View tour: Danube – Leisurely Linz to Vienna
Family Cambodia
Go on an unforgettable adventure to one of Asia's most welcoming and spectacular countries, Cambodia. Wake up to watch the sun rise over Angkor Wat, before cycling to ethereal temples and discovering lesser-known sites with a knowledgeable guide. In Siem Reap, pedal along countryside paths passing villages, vegetable plots and fishponds, then transfer to Tonle Sap Lake, where families can enjoy a boat and kayak ride to the small floating village of Meatrey. In the afternoon, travel to Battambang, the perfect place to immerse yourself in the local culture; whether it be wandering around the Buddhist shrines and craft stalls, enjoying a drink in one of the laid back cafés or signing up for an optional tour of the bat caves at Phnom Santuk. After taking in the incredible atmosphere by bike, visit an authentic pottery before reaching the final stop, Phnom Penh. Families will be in their element here, with rickshaw rides, museums, markets, fishing courses and the grand palace and silver pagoda. As the trip comes to an end, visit the local islands on the Mekong and Tonle Sap rivers, meet local weavers and sample fresh fruit and vegetables grown in the rivers' fertile soil. Although prior cycling experience is recommended, the pace on this tour is relaxed and mostly flat, meaning all ages can get involved.
View Tour: Family Cambodia
Family Lake Garda – From One Hotel
Lake Garda has a wide range of activities available, many of which are ideal for families. Aside from the lake being an exceptional destination for relaxation, with the historic centre of Peschiera del Garda offering safe swimming and plenty of amenities, adults and children can also cross the moat to Sirmione Castle, visit the Sealife Aquarium, climb a clock tower and check out the Canevaworld Aquapark. You will also be able to eat creamy gelato, al dente pasta and fresh pizzas to your heart's content! Stay at a family-friendly three star hotel in Peschiera for six nights and make the most of all the region has to offer. By only having one base, there is no need for unpacking or repacking, plus guests can easily factor in extra rest days if required. Children who need to let off a little more steam can visit Gardaland, one of Europe's top theme parks which is home to plenty of rides and attractions. For a rewarding experience, bike to the Parco Natura Viva, a park that hosts an important (and endangered) zoological collection. The four easy cycle routes on this tour are ideal for families and the flexibility of the programme means guests can be as chilled, or as active, as you like.
View tour: Family Lake Garda – From One Hotel
Family Lake Constance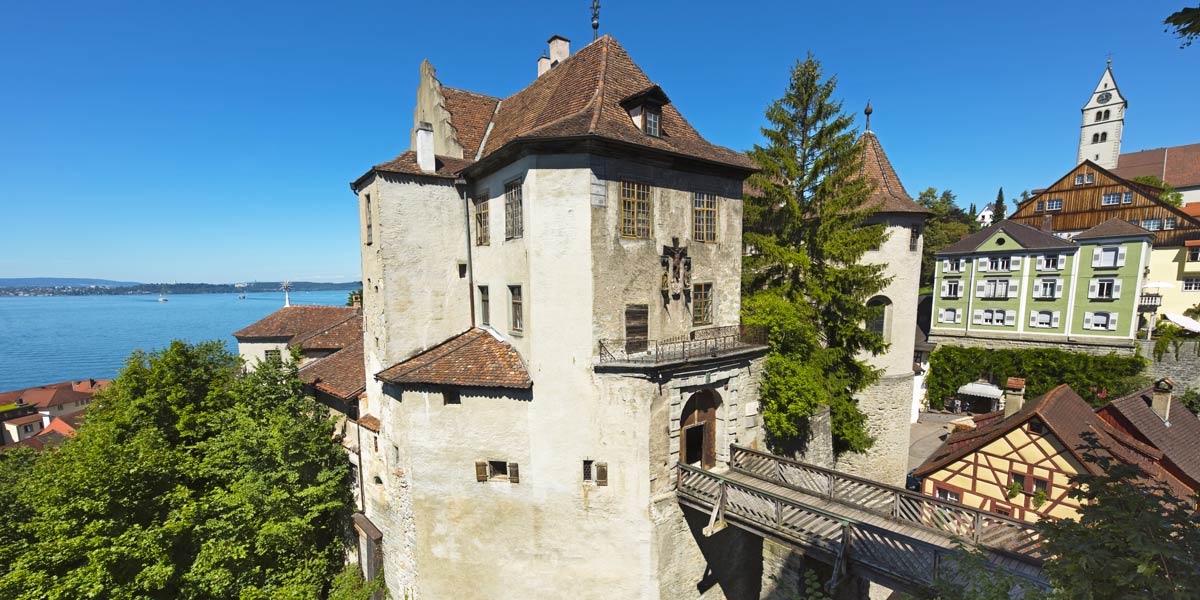 Spend a week discovering the upper and lower shores of sparkling Lake Constance, on easy rides through Germany, Austria and Switzerland. Explore fairytale castles, prehistoric stilt houses, half-timbered buildings and inviting lidos before finishing in the historic city of Constance. The easy terrain, well-marked paths and child-friendly attractions make this an ideal tour for families. Plus, the hotels have all been chosen for their relaxed, welcoming atmosphere and native flair where parents and children can experience local life first hand. Highlights include Langenargen's Moorish style Montfort castle (with a Sleeping Beauty style turret) and free entry to the SeaLife Centre in the city of Constance, which is now home to 10 mischievous Gentoo penguins. Two boat trips are included in this tour too, so families can have a break from the saddle and avoid busy roads. Various discounts are available for children age five to 17.
View tour: Family Lake Constance 
Tours featured in this post