In June 2018 I enjoyed my first taste of a Freedom Treks cycling tour, relaxing and unwinding in the comfort of a beautifully restored Alentejo Farmhouse on the 'Portugal's Alentejo Region' tour in rural Portugal.
Myself, my partner and my parents opted for a four-night stay with three different cycling routes from this one base and, as the title implies, you really are riding in paradise. It was such a fantastic experience, I want to go back! Read on to discover what made this trip so special.
The Beautiful Farmhouse Accommodation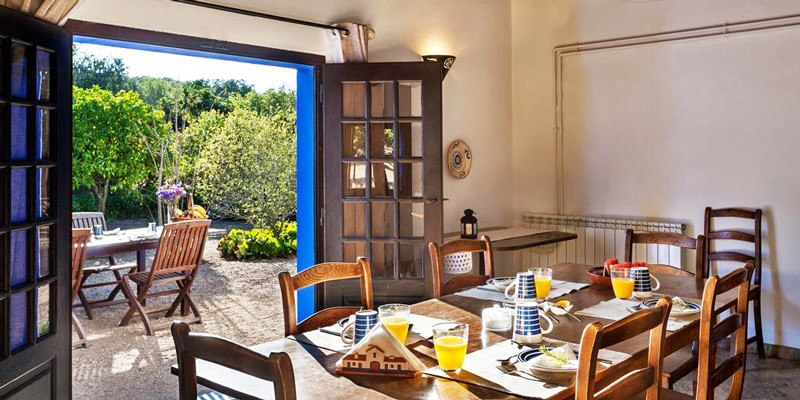 The tranquil Alentejo farmhouse base for this tour is approximately 6 miles (10km) outside the town of Évora. The accommodation has four rooms, all uniquely decorated with locally inspired themes – cork, olive, cereal and wine.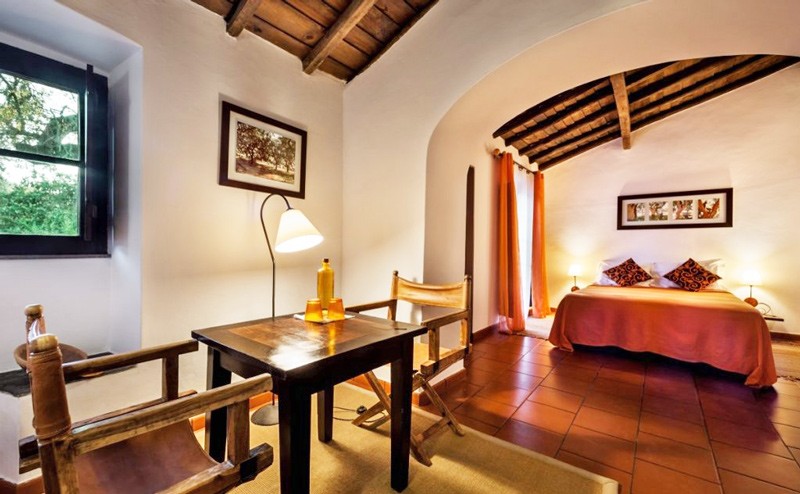 The farmhouse has recently been restored for comfort in both the hotter and cooler months. The lounge area has a large fireplace, TV and games for the family. The kitchen is used by the staff to prepare your meals along with an "honesty bar" of snacks and refreshments. The dining area opens up to a beautiful view of the orange trees, where fruit is picked for your freshly squeezed orange juice at breakfast, there are also plenty of spots to sit and relax outside. Each bedroom is equipped with a double bed, en-suite bathroom and your own outside seating area. The house also has a crisp, blue pool, which always served as a welcome refreshment after the day's cycling.
Welcome Meeting and Bike Handover
The welcome meeting for this cycling tour usually takes place at the farmhouse on arrival day at 5pm. We arrived a little late on our first evening, but the staff were happy to run through details with us the next morning at 9.30 am. We were given a rundown of our three cycle routes, timings for our wine tastings on two of these routes (highly recommended, but make sure that you book in advance), and a test ride of our trusty steeds for the next three days!
The hire bikes were high quality, sturdy and well maintained women's and men's bikes with 24 gears, a pannier each, helmet, a lock, a pump and a repair kit (shared between two).
The Meals
Breakfast is available from around 8:30am each day and includes locally produced jams and honey, bread, eggs and freshly squeezed orange juice.
Included in our four-night stay were two delicious three-course dinners prepared by the lovely Josana. On the first night, we indulged in a salmon and goats cheese starter, drizzled in oils and fresh herbs, followed by a hearty plate of rice, salad and meat, perfectly finished with a dark chocolate mousse for dessert. With high expectations, the second dinner didn't disappoint! We started with herb-infused quail eggs and mushrooms, followed by a main dish of mince stuffed aubergine with grilled cheese, a side of salad and fresh bread. To end, a tiramisu that went down a treat with our coffees!
The Cycle Routes
With five routes to choose from, you may wonder which ones to do if you are only there for a short stay. As this was my first Freedom Treks cycling holiday, I discussed the available routes with colleagues and established three choices. I was not disappointed, from Roman ruins to typical Alentejo villages, with wine and cheese tasting in between, I was a very happy lady!
Transfers are included within the tour price, based on the number of cycle days. With our 3 cycle days we had 2 transfers included. Taking a transfer means the difference between a day with an easy level of cycling and a moderate day. If you are looking to make the most of your stops and enjoy the sites along the way, I would recommend taking the transfers. You are on holiday, after all!
Day 1 - Megalithic Monuments
We started off by cycling along an eco-trail to make our way into Évora and cruised through the cobbled streets. After our visit to the historic centre of Évora, we continued our ride along a quiet road and visited Roman Ruins from the 1st Century BC. We made our way to the next town to enjoy a well-deserved beer, enjoying the historical stops along the way, such as the Dolmen of Zambujeiro - the largest dolmen in megalithic Europe. To make the most of your day and really enjoy the sites I would recommend taking the optional transfer back from Guadalupe. From this pick-up point you would cover 30 miles (49km) on this easy route, but if you opt not to take the transfer like we did, then the moderate route is 47 miles (75km).
Day 2: Wine & Cork Route
Our choice of route on the second day was a 26 mile (42km) ride along asphalt roads, where again we felt at ease with almost no traffic and courteous drivers. Our first stop was a typical Alentejo village, Igrejinha, where we stopped for a quick drink and some solace from the sun. We then continued past three wine estates and a prickly pear plantation, where you are able to stop in to try their fruits and jams. Our next stop was a cork factory where the owner's English-speaking son, David, gives a great demonstration of all the uses of cork. For me, this fascinating stop is certainly worth a visit! In the same village you can visit a knife factory, where you can see the axes used in the cork harvesting and on your way out, head past an old bullring and on to a wine tasting at Casa Agricola Alexandre Revlas (booked in advance), that we thoroughly enjoyed! After this, we took the transfer back to the farmhouse and enjoyed a beer by the pool, a perfect way to end the day.
If you would like to cycle the longer route for this day, the distance is 46 miles (74km) without a transfer.
Day 3: The Famous Carpets
Today's ride was 28 miles (45km) along a beautiful trail from the farmhouse, which leads you past abandoned train stations and through quiet farmlands to get to the little village of Ilhas, a perfect place to stop for a coffee or beer. We then continued on quiet side roads to Arraiolos, where we visited a Carpet Museum and then climbed up to the Castle of Arraiolos for some great views of the surrounding countryside. On this day we booked a visit to Amendoeira Farm for cheese and liqueur tasting (booked in advance), it was the perfect way to end three glorious days of cycling. After the transfer back to the farmhouse, we relaxed and recounted memories of our trip.
If you opt for the longer cycling day, this route without a transfer is approximately 47 miles (75km).
My Final Impression
For myself and my partner, as first timers on a Freedom Treks holiday going in without any expectations we were completely blown away! This was not my first time in Portugal, but it was my first time in this area and I fell even more in love with this country and its people. My parents, extremely avid cyclists, had also never been on an organised cycling holiday like this before and within the first kilometre my dad cycled up to my mom and promptly said, "I am absolutely loving this!".
With only four rooms in our quiet farmhouse accommodation, we loved the homey feel and chatting with the staff, who also enjoyed the fact that my dad could speak Portuguese! Our final evening was spent recounting what we'd seen and flipping through photos, all agreeing that we would certainly do something like this again… and soon!
Oh, and I Forgot to Mention...
On this trip, my partner said yes! I couldn't have asked for a more beautiful setting for this unforgettable moment.
The Details
The tour runs all year round and I would say that the best time to visit would be either May or September when temperatures are more comfortable for cycling.
We flew to Lisbon airport which has flights from a number of UK airports. We organised car hire for this trip (be aware that there can be queues at car hire pick-up points), alternatively, you can get a bus into the city of Évora where you will be collected by the local team and transported to the farmhouse. Or we can organise a transfer to/from the airport, please contact us for more information.
If you would like to know more about this cycling trip in Portugal, please visit the tour page.
Alternatively, make an enquiry online or speak to one of our team by telephone on +44 (0)1273 224066 (office hours (UK time): Monday to Friday: 9am - 5.30pm)
Like us on Facebook and follow us on Twitter for more tips and advice from our team.
Tours featured in this post