The remarkable coastline of Croatia is in our opinion, the ideal destination for a cycling tour. Croatia may be lesser-known than its Mediterranean neighbours Italy and Greece, but this is a country that offers similarly wonderous natural beauty, historic cities, glistening beaches and delicious food & drink.
The majority of tours that we offer in Croatia are boat & bike trips and they rank amongst the most popular tours that we offer anywhere in Europe! Stay aboard a selection of beautiful boats, cruising between islands where you'll enjoy daily rides, before returning to your boat to relax and maybe enjoy a swim in crystal-clear waters.
If you're unsure about whether a cycling tour in Croatia is going to be right for you, read on to discover the reasons we love cycling in this fascinating country.
The Boats
The Melody boat in Croatia
With over one thousand islands and a dazzling coastline, it's easy to see why Croatia is a very popular boat & bike destination! Another reason for the popularity of these tours is the quality of the boats available, with a number of polished motor yachts and elegant sailboats to choose from. Our customers regularly comment on the comfort level of cabins, the high levels of service provided by the crew and the impressive quality of the food on board the boats in Croatia.
---
Sailing Between Islands
Sailing between islands, Croatia is a paradise for lovers of the ocean
A unique feature of most boat and bike tours in Croatia is hopping between islands aboard your chosen boat, the perfect way to unwind after time spent cycling. The experience of gently cruising through clear blue waters, whilst differing islands landscapes flowed by is one I'll never forget from my time on the
National Parks of Dalmatia - Deluxe
tour.
---
Varied and Beautiful Rides
Sales Consultant Andy Evans, admiring the views from his bike
Once on the bikes, Croatia really is a delight for any cyclist. Roads and cycle routes are generally well paved and quiet, with courteous drivers. Daily distances and terrain vary, but our wide selection of cycling tours in Croatia means there is something for everyone. The scenery as you pedal is arguably some of the best in Europe and always-welcome coffee stops along the way are usually in charming locations. Arriving into historic port towns and relaxing with a cold beer or ice cream at the end of a day on your bike is a highlight of any tour in Croatia.
Read more about what it's like to cycle in Croatia in Catherine's trip report from her time on the South Dalmatia tour.
---
Natural Beauty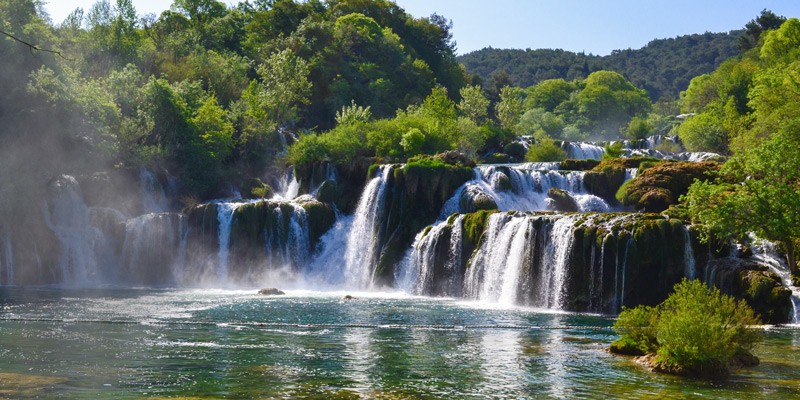 The beautiful waterfalls at Krka National Park
Our customers are often astonished at the sheer beauty of Croatia and it's many diverse landscapes. From sweeping ocean vistas to rolling countryside and weathered farmland to verdant national parks, Croatia really does have a lot to offer.
Perhaps the natural beauty of Croatia is best described by Adam Ruck from
The Telegraph
, writing about his time on our 'National Parks of Dalmatia – Deluxe' tour: "
Most of our rides are on empty little roads through open country with big sea views and mixed veg: olive groves, vineyards, prickly herbal scrub; Mediterranean scents in the air and myriad butterflies on the wing.
"
---
Captivating Port Towns and Cities
The beautiful town of Šibenik
The wonderous natural landscapes of Croatia may draw you in, but the port towns and cities that lie along the coast shouldn't be overlooked. Dubrovnik has become one of Europe's most talked about destinations, with its ancient stone walls and baroque structures. Zadar is a historic town, with Roman ruins, fascinating museums and its famous sea organ! Hvar town is endlessly pretty, with Gothic palaces and laid-back cafes that line its marble streets.
Some boat and bike cycling tours in the region also include guided walking city tours, helping you to learn more about Croatia's fascinating history and its mix of Mediterranean influences.
---
The Perfect Mix of Active and Relaxed
The sun deck of the Princeza Diana boat
If you're looking for a trip with an ideal balance of enjoyable activities and relaxation, then a cycling tour in Croatia is the perfect choice. Cycle rides are at your own pace, and whilst they do involve a degree of effort, there are plenty of ways to soothe muscles once off your bikes! On a boat & bike holiday, relaxation can be found on the sun deck, in a hot tub or with a cocktail in the saloon. Enjoying Croatia's crystal-clear waters is also a must-do, your boat will often stop en-route to the next harbour and you can jump in and cool off! Most boats have swimming platforms too for easy access. We also can't imagine many better ways to spend an evening, than relaxing after an enjoyable cycle ride with a beer and good local seafood in a waterfront restaurant.
---
The Guides and Boat Staff
One of the fantastic cycling guides, riding with a customer in Croatia
On a guided tour your rides will be brought to life by knowledgeable guides with a passion for cycling and the history and culture of Croatia. The English-speaking guides organise your day, ensuring that the cycling is interesting, with rest points and stops at points of interest along the route. If you are on a boat and bike tour, you'll also have the pleasure of sailing with a crew that strives to make your time aboard as enjoyable as possible.
---
Unforgettable Photo Opportunities
The cliffs of Telascica Nature Park
To describe Croatia as picturesque almost does it a disservice! Everywhere that you look you're greeted by views that are hard to forget. On our latest trip to the Dalmatian coast, myself and my colleague Andy took the opportunity to photograph some of these scenes, you can see a selection of the images that we took in our
photo blog
.
If you're heading to Croatia for a cycle tour, don't forget to take a few snaps for our
photo competition
!
---
To learn more about our Croatia cycling holidays, make an enquiry online or speak to one of our team by telephone on +44 (0)1273 224066 (office hours (UK time): Monday to Friday: 9am - 5.30pm)
Like us on Facebook and follow us on Twitter for more advice and tips from our team.
Tours featured in this post